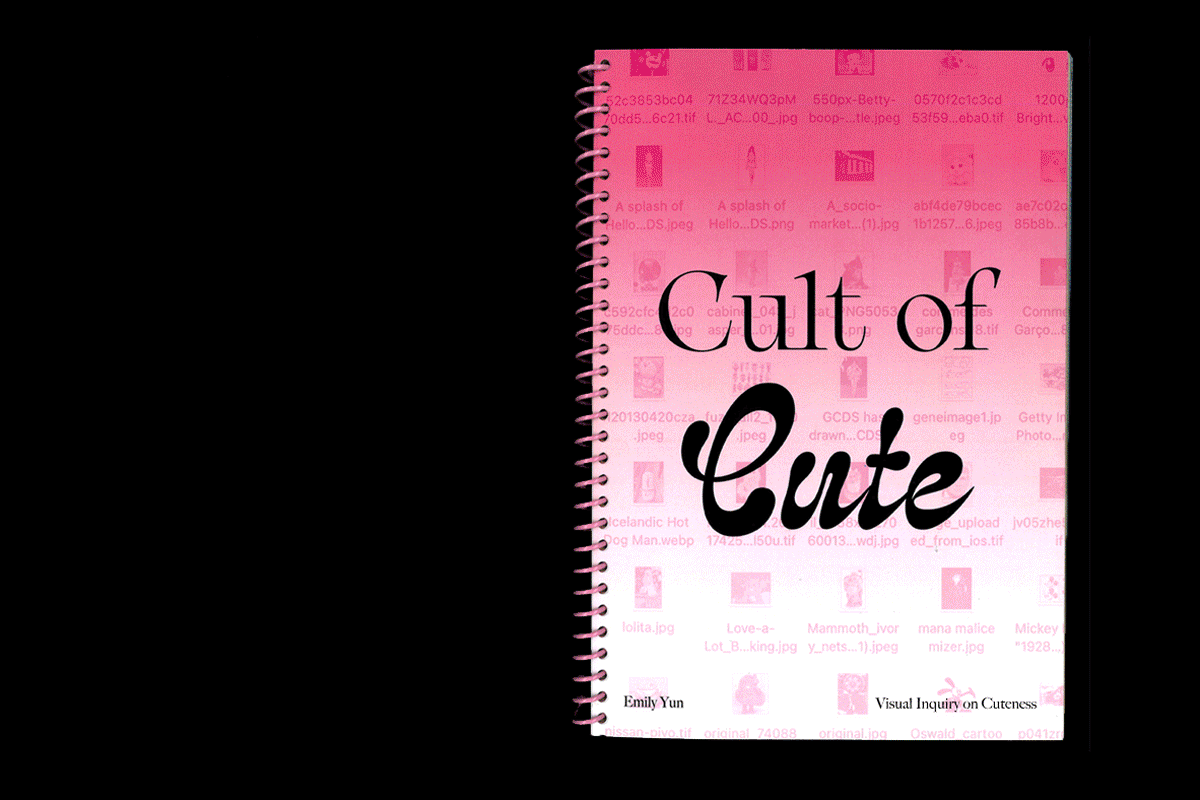 Cult of Cute: Visual Inquiry on Cuteness
BFA Thesis 2021

Why is America so obsessed with all things petite, Asian, and domesticated? What are the critical notions behind

cuteness

and, through its globalization, how has it evolved through mass consumption? These questions drove my personal investigation into a visual and semantic exploration of

cuteness

.

Cult of Cute

encourages dialogue on the matter, as an aesthetic so harmless in nature becomes equally concerning. It uncovers contextual research that uncovers this aesthetic rooted in escapism, capitolism, and the subversive tools of soft power. The book looks into cultural perspectives, Western and Kawaii

cute

, and introduces the psychology behind what makes objects

cute

, referencing Ethologist Konrad Lorenz's baby schema, or Kindchenschema. Further into the book, the reader can uncover how

cute

has capitolized all over the world through globalization and hyperconsumption, crawling its way into many industries, like fashion, automobiles, and darker corners of Internet subculture. Inspired by past research, personal writing, and images, this project set out to create a sense of eeriness to reveal

cute's

darker undertones, blurring the lines between

Cute and Creepy

, and

Power and Submission

.

What is offered is a more critical perspective on this aesthetic, reflecting upon cute's overconsumption in capitalism, its oversaturation in our media, and sometimes its harmful incorporation into Asian-American identity politics. Why are we so drawn to cute and how far can it be applied as new definitions continue to emerge?

All text written by me, except for pulled quotes & other sourced definitions.

Entire book accessible at the bottom of the page.

Parsons BFA Website ︎︎︎Research Are.na ︎︎︎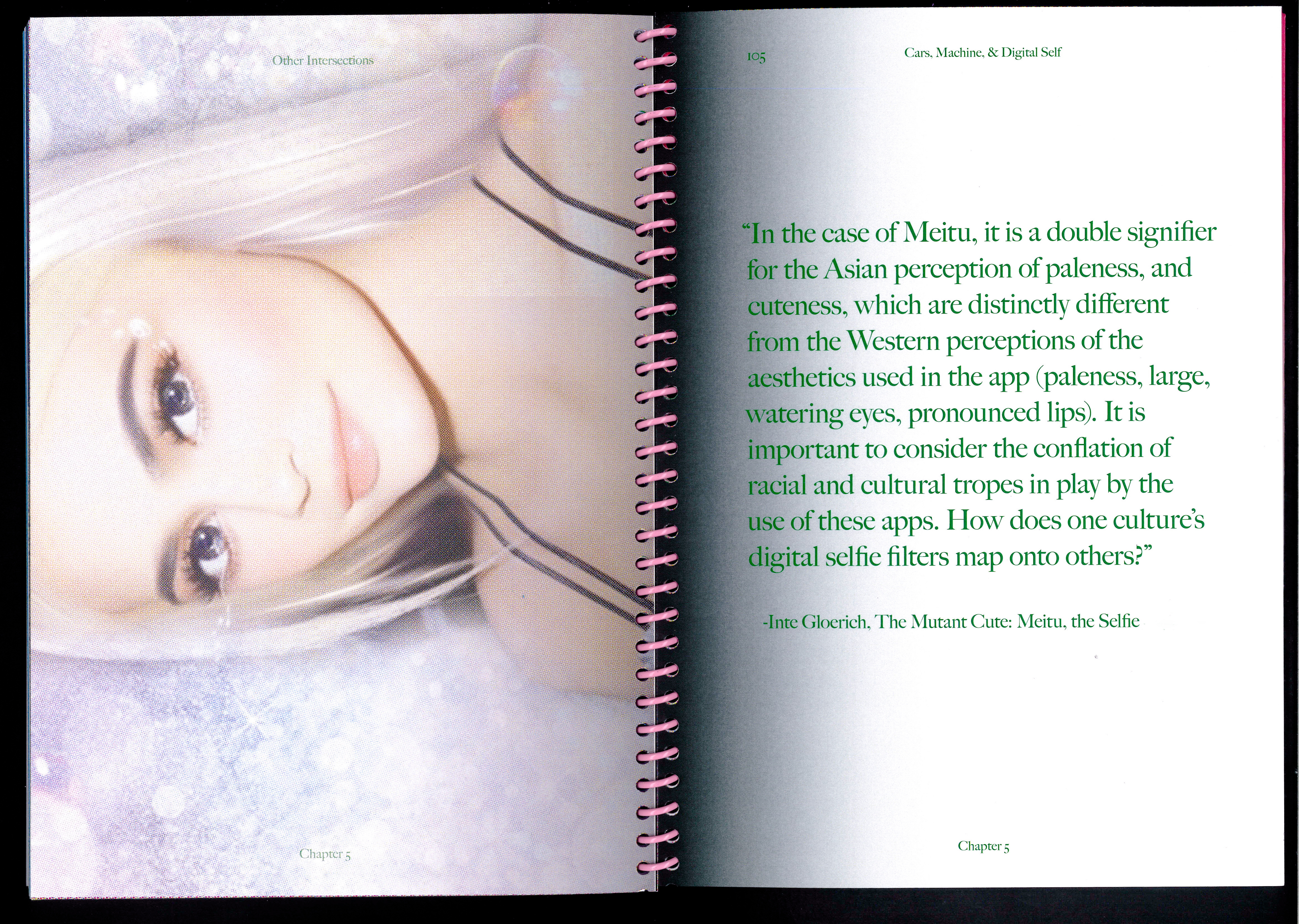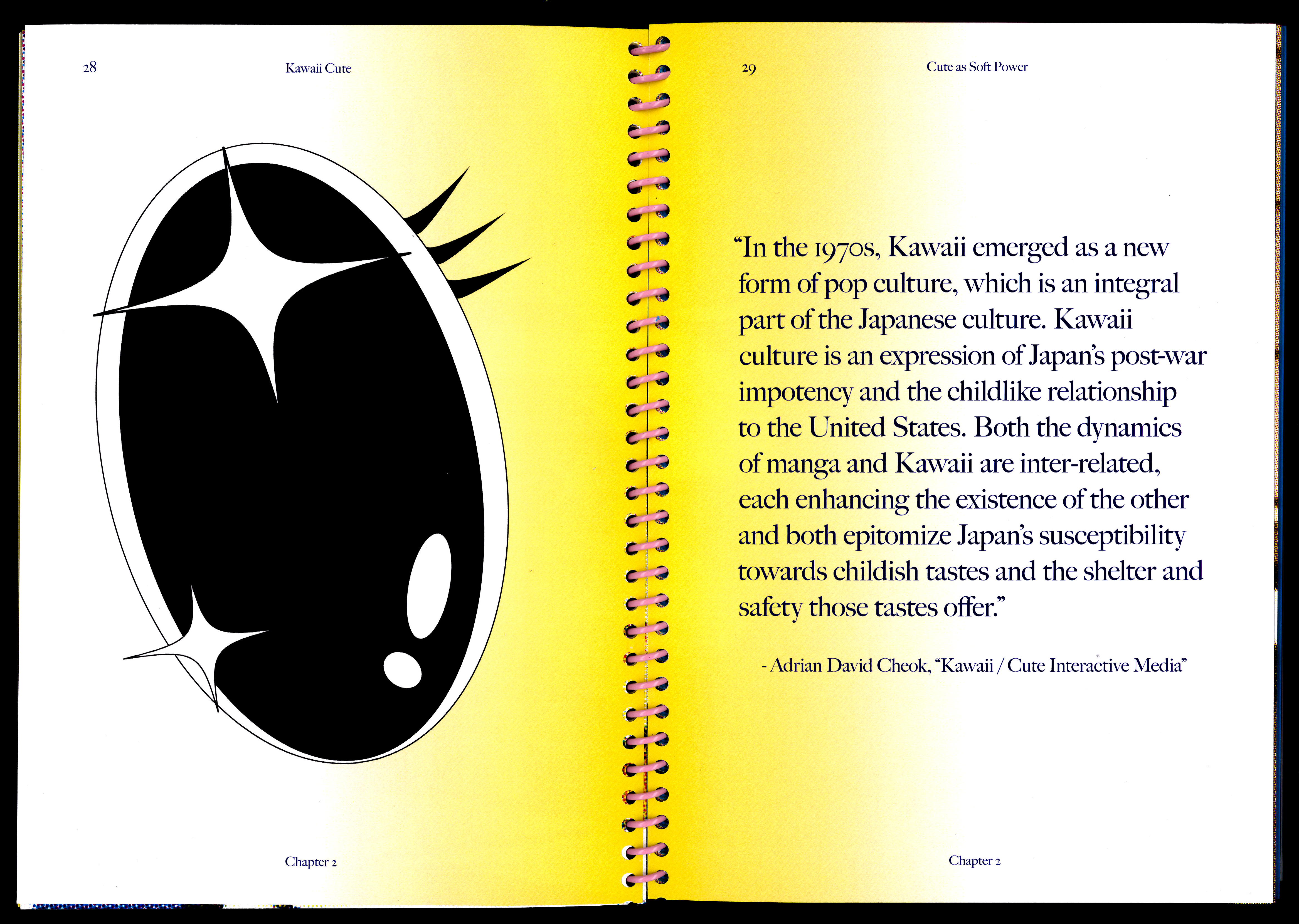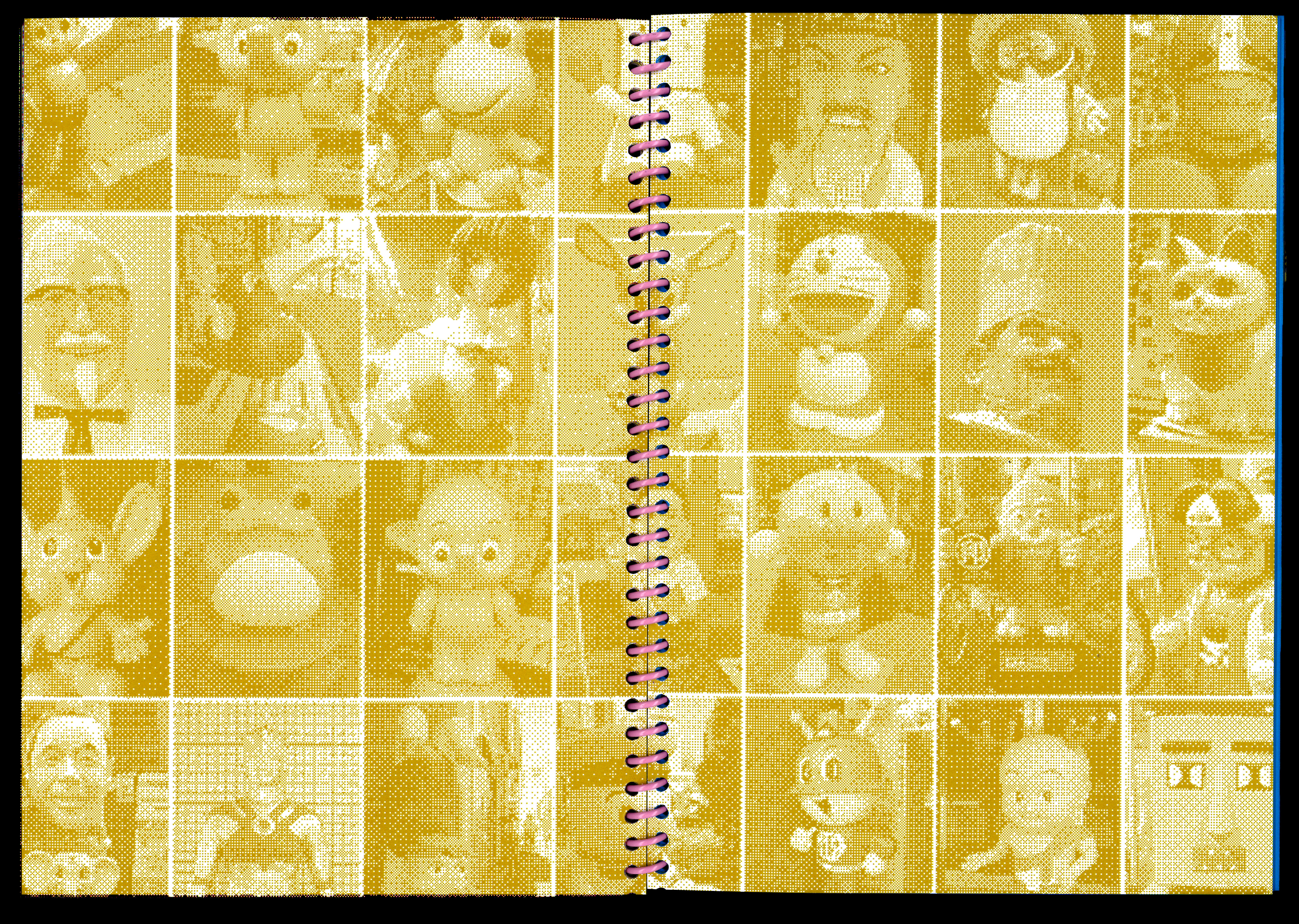 Crack Couture
Branding, Visual Identity
2020

Developed and branded an identity + logo design for Crack Couture ︎︎︎ a resin jewelry brand.

Crack Couture is a resin jewelry brand that creates bubbly nostalgic resin rings that take us back to our childhood. I worked with the creator of the brand to establish a visual identity that was bubbly and fun with a modern twist. I came up with the logo icon and type treatment that felt playful and also reflected the bubbly shiny resin material of the rings.

Designed assets for print and digital promotional use such as posters, business cards, zines, 3D and motion graphics work. Also, assisted with creative concepts and UI.
Spatial Noise: The ASMR Experience
Branding, Identity 2019
Spatial Noise is an interactive hypothetical Pop Up ASMR Experience, located in Brooklyn, New York.

The Spatial Noise Pop Up explores the strange world of ASMR, allowing people to enter with headphones for an audioimmersive experience that detects where you move, setting off different sound experiences depending on which room you go to that has a certain ASMR trigger, such as tapping, crinkling, and more. At the end of the experience, people can buy products related to the world of ASMR, such as a pillow and noise-cancelling headphones. The pop up has a similar sophistacted tone as an exhibition would have, but with the ability to take away products that promote sound and sleep products at the same time.

The identity system consists of neutral tones and contrasting type to create a sense of mystery and strangeness that elevates the concept of ASMR being criticized for its weird, humorous, and offputting experience, while also being a serious 'wellness' tool that can offer help to some people in curing insomnia, anxiety, etc.

The project was assigned to create an identity for a pop up shop that included promotional advertising, visual cohesive identity system, and product design on items that would be found at the pop up.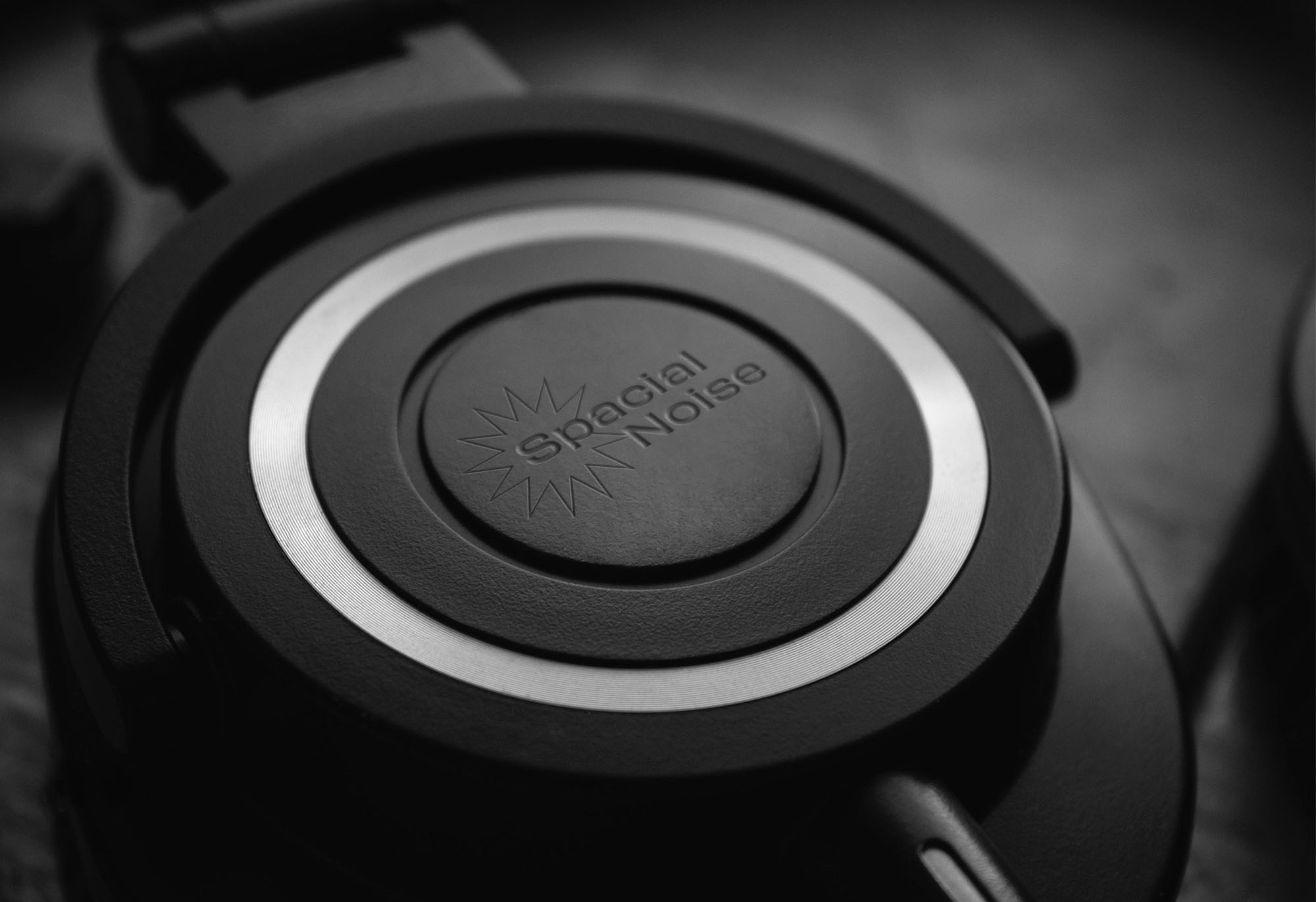 Urgency
Motion Graphics
Instructor: Shira Inbar
2020


Moving Poster series made in response to the ongoing COVID-19 pandemic, where the language of urgency such as "stay home" reflects this time of crisis and uncertainty.

Vimeo ︎︎︎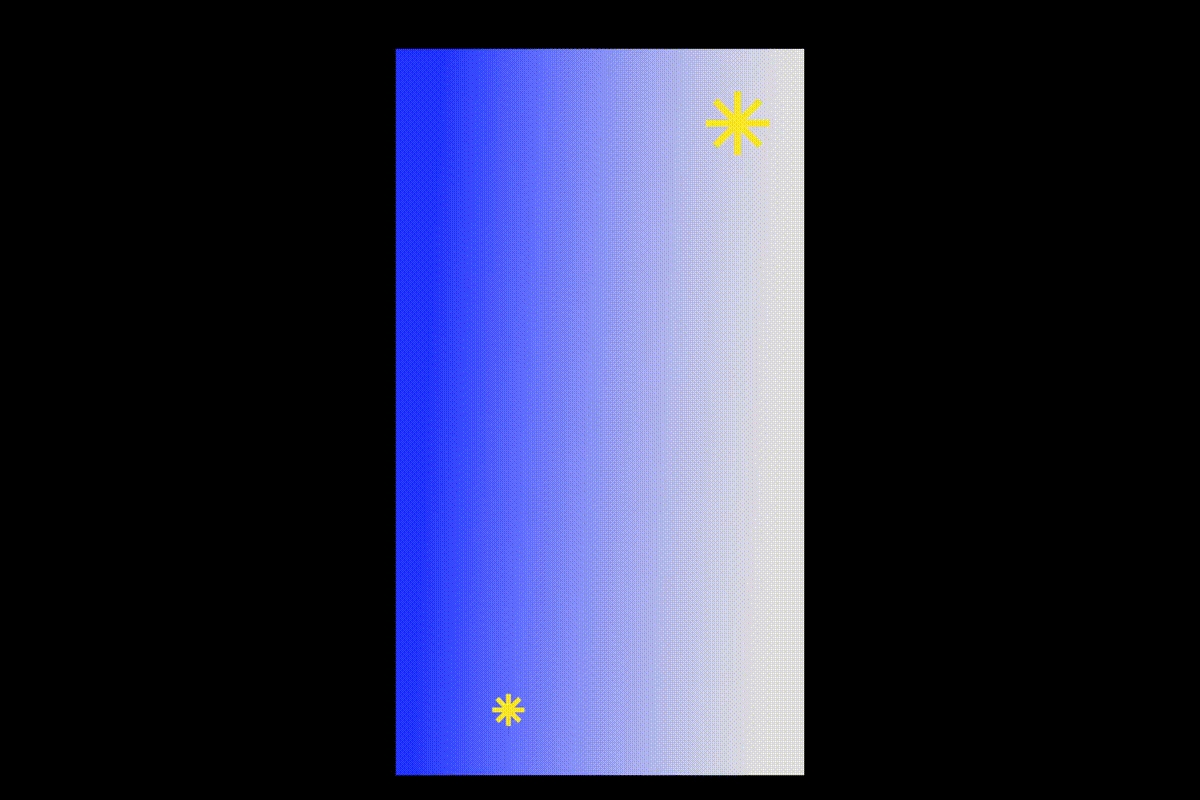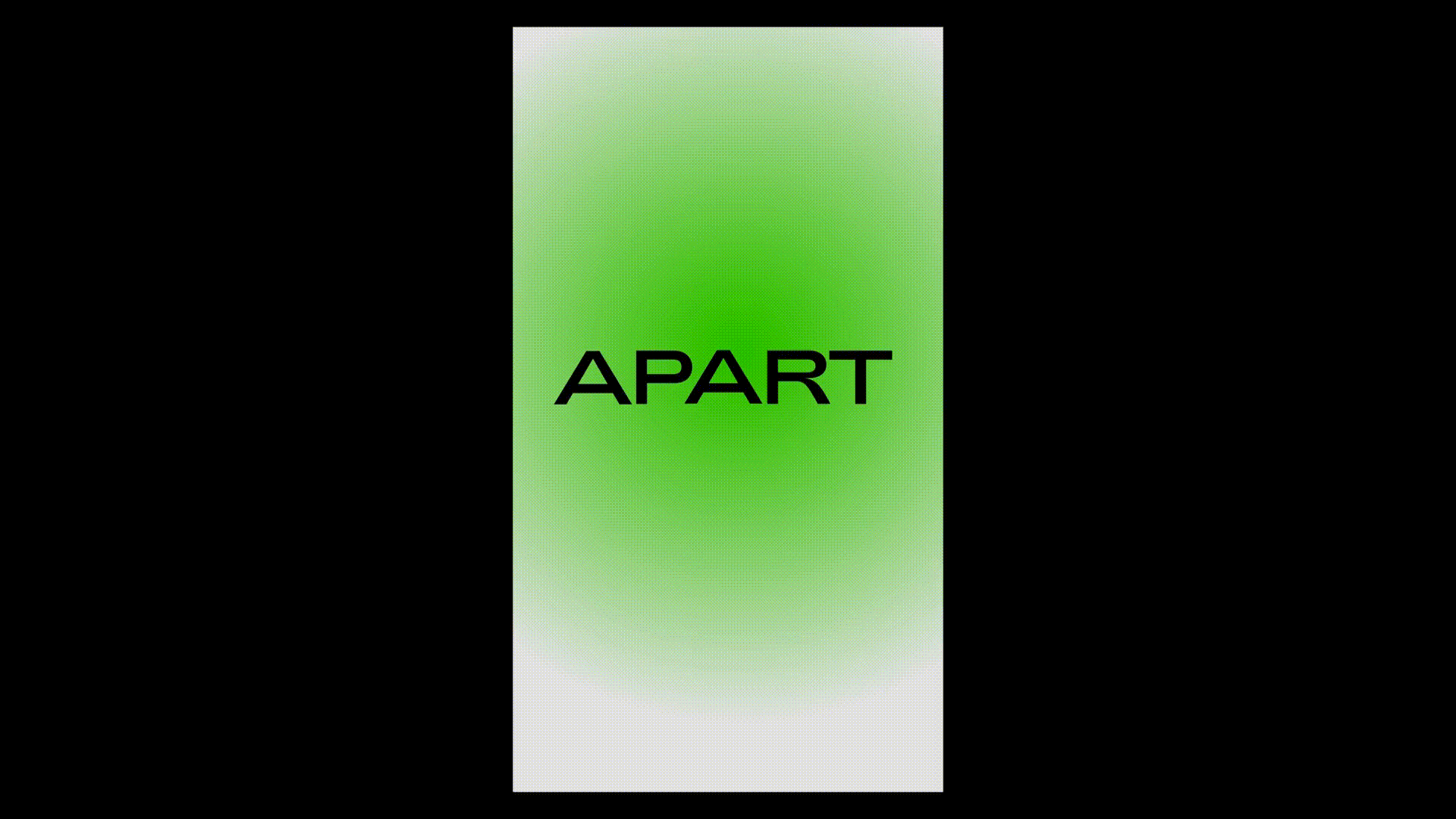 Powerhouse Arts
Branding / Visual Identity 2019


Powerhouse Arts is a not-for-profit based in Gowanus and Red Hook, Brooklyn, established to create a robust platform for art production and employment in the arts. They are the redevelopment of the former Brooklyn Rapid Transit Power Station in Gowanus to create a new facility that houses fabrication and production facilities in wood, metal, ceramic, textile and print.

The project brief included creating a logo using the given name to create a visual identity for Powerhouse Arts, including business cards and other material with a cohesive design system, for this hypothetical visual identity for Powerhouse Arts.

I designed a typographic logo using a monotype that reflected the symmetrical boxy architecture of the building itself that was historically known for being the Batcave in Gowanus. It has a special stretched out E that also conveys the 3 tier floor of the building that will house the different facilities.

Since Powerhouse Arts also acts as an artist space focusing on community building and accessibility in employment and even education, I created a visual identity using striking bold colors and building block shapes that reflected its humanistic and inclusive mission to assist artists and creatives build and establish their projects into fruition.